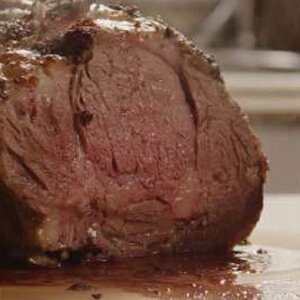 Prime Rib's exact origin and beginnings is unclear, although most historians agree roasts became popular during the Industrial Revolution in the United Kingdom, Australia, Ireland, Canada, New Zealand, and USA.
Prime Rib was originally known as the "Standing Rib Roast". As meat butchering standards improved in the late 19th century, more people were able to enjoy a hearty beef dinner. Various cuts of meat are more popular than others, but the Prime Rib section has been one of the long standing choices for beef connoisseurs.
The following is a diagram of beef cuts:
Those from British or Irish households will recognize a prime rib meal as a "Sunday Roast". Some Sunday Roasts include other meats: pork, chicken, or lamb as accompaniments.
This meal is commonly served with mashed or baked potatoes, Yorkshire Pudding, stuffing, vegetables, and gravy. Many families consider the Sunday Roast an important tradition, set aside for the afternoon after morning church services have concluded. Now, regardless of ethnic origin, many people set aside Sunday as "Family Dinner Night", a great way to bring everyone together in our increasingly electronic and socially isolated world.
Garlic Studded Prime Rib Roast
1 (10 pound) prime rib roast
10 cloves garlic, minced
2 tablespoons olive oil
2 teaspoons salt
2 teaspoons ground black pepper
2 teaspoons dried thyme
Directions
Instructions Checklist
Step 1) Place the roast in a roasting pan with the fatty side up. In a small bowl, mix together the garlic, olive oil, salt, pepper and thyme. Spread the mixture over the fatty layer of the roast, and let the roast sit out until it is at room temperature, no longer than 1 hour.
Step 2) Preheat the oven to 500 degrees F (260 degrees C).
Step 3) Bake the roast for 20 minutes in the preheated oven, then reduce the temperature to 325 degrees F (165 degrees C), and continue roasting for an additional 60 to 75 minutes. The internal temperature of the roast should be at 135 degrees F (57 degrees C) for medium rare.
Step 4) Allow the roast to rest for 10 or 15 minutes before carving so the meat can retain its juices.